A domain name, website address, or URL is literally the address and the face of your business. Without it, you can't have a website, and you'd literally be only a web address (URL) on someone else's domain name.
With over 400 million domain names currently registered, there's a good chance that the domain name you want is currently not available to hand register for the typical annual domain name registration fee ($10-20 for most .COM domain names).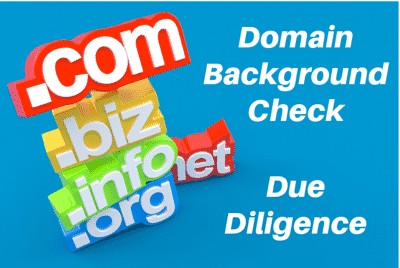 You might be able to find the domain you are looking for, but the price may be higher. It's a "used" domain because it has been registered already and you are buying it directly from the owner. It's like a used car. Used domain names can have a past, good or bad. Our domain name background check service can help you find out the truth. Are you sure you have the complete history of the domain you are going to purchase, and the domain you will use to host your virtual storefront?
Our 50+ Point Checklist
Bill Hartzer, the founder of DNAccess and previous Director of DNProtect, has been buying and selling domain names since 1996, and, combined with his 20+ years of online marketing, search engine optimization, and digital marketing experience, knows a good domain name from a bad domain name. In fact, in 2015, he developed a 50 point checklist to use during the domain background check and due diligence process. As a frequent buyer of expired domain names, it's imperative that the right domain name is purchased–not one that has all sorts of baggage and questionable history behind it.
Our domain name background checks and domain due diligence service includes a review of the following:
Search Engine issues
Social Media issues
Ownership history
Website history
Email blacklists
Trademark issues
Sales history
Link history and issues
Current Owner review (is it a stolen domain?
These are some of the issues that are reviewed–some of the other issues reviewed can include these but are verified through multiple sources. For example, reviewing a domain name's backlinks (links from other websites) is important. We review link data from multiple data sources.
A thorough domain name background check starts at $99, and is a one-time service. Contact us for more details.